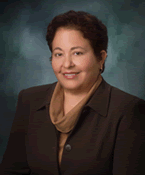 Silvia S. Ibanez was born in Havana, Cuba in 1952. She has twin children, Juan Carlos and Cristina, and two grandchildren. A naturalized US citizen, Silvia is currently engaged in the practice of law in Orlando and Kissimmee, Florida. She devotes her practice to the law areas of probate, estate and tax planning, elder law, real estate, and business transactions. She has been practicing law since 1988. Prior to her law practice, she accumulated 13 years of tax and financial planning experience while working for Coopers & Lybrand CPAs, Main Hurdman CPAs and Interstate Securities Financial Planning Division.
Professionally, she has also been active teaching at local universities in Orlando, i.e. Univ. of Central Florida and Univ. of Phoenix. She has taught: financial accounting, managerial accounting, federal taxation, legal environment of business, and legal writing.
She has been involved in various community endeavors involving primarily children and families. Some of these include: Chair of the Florida Bar's Legal Needs of Children Committee in 1993; past member of the Polk County Citizens Task Force for Children and Families; past board member of the Polk County Children's Services Council; incorporator of Healthy Start in the Tri-County area of Polk/Hardee/Highlands Counties; service as a GAL (guardian ad litem) representing abused and neglected children since 1985 on a pro bono basis; and Chair of the Orange County Bar Law-related Education Committee for several years (till June-2002).
Her latest volunteer project involves children and her love of civics education; she was Pres. and a founding board member of Kids Voting Central Florida (KVCF), which provided free civics education modules and mock voting experience to Orange County Schools during the years 2001 to 2011. Her involvement as Judge in the We the People High School Competition is what led her to discover the existence of Kids Voting USA and to spearhead the inaugural efforts of Kids Voting Central Florida Inc. here in Orlando, Florida.
She has served on various government boards and/or served in an official capacity, including:
Polk County's Special Master on the Property Tax Value Assessments Board
9th Circuit's Florida Bar Grievance Committee
Orange City Affordable Housing Board
Orange City Disability Advisory Board
Orlando Minority Certification Appeals Board
Silvia also achieved national recognition by winning the first amendment argument concerning the advertisement of her multiple credentials [i.e. CFP and CPA] in attorney advertising – a decision issued by the U.S. Supreme Court in June 1994. [Ibanez vs. State of Florida] Locally, the Hispanic Chamber of Commerce of Central Florida awarded her the Don Quijote Excellence award in 2002 for her community service in the Central Florida community.
She is currently serving as Treasurer on the Board of Directors of the Hispanic Bar Association of Central Florida. Her hobbies include singing with the Bach Festival Society of Winter Park.
edited Aug. 2014